Promote Your Business or Website
Use our
fishing wiki
to promote your website and/or business. ♣ Read our
fishing articles
♣ Listen to FishBytes on
KSL Outdoors
♣ Take a
SkyCall satellite phone
on your next adventure
♣
Follow me on Twitter
What's New
Hardware Ranch sleigh rides to view elk will begin on Dec. 17.
Scofield Ice Fishing Tournament will be Jan 8.
Flaming Gorge Buckboard Burbot Bash Ice Fishing Derby will be Jan 22.
Bear Lake Cisco Disco will be Jan 22.
Fishing Tip
If ice fishermen are noisy, does that reduce fishing success?
Yes, in my opinion. On some trips I've seen good action fade when some heavy footed angler tromps by.
For many, ice fishing is a social event and they enjoy horsing around with their companions. That's fine but it may slow down fishing success, particularly if you are over shallow water. Snowmobiles, ATVs, kids jumping and stomping and anything else that sends vibrations through the ice may scare fish so they leave the immediate area, or so they go deep and stop biting.
Success often returns within a few minutes, if the vibrations stop.
If you are fishing deeper than 30 feet, the effect is not as noticeable. In some heavy traffic areas, fish seem to become use to vibrations and so noise does not have as much of an effect.
But, as a general rule, you will catch more fish if you are quiet. If you ride in on snowmobile or ATV, great, get where you are going and then park the thing. Don't keep riding around while you wait for fish to bite.
When you are on foot, walk softly, as much as possible.
- Dave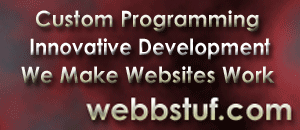 FishBytes is sponsored by WebbStuf.com, a Utah company offering custom website development.
What's Frozen
At this writing, these reservoirs reportedly have enough ice for safe fishing. Conditions can change quickly so always use caution.
- Scofield
- Flaming Gorge Firehole Area
- Otter Creek
- Huntington
- Cleveland
- Puffer Lake
- Woodruff
- Birch Creek
- Uinta Mountain lakes
- Some bays on Strawberry
Fishing Overview
Strawberry has ice on some bays and crazy people have been fishing through it. They report fair action. Ice on bays should firm up by this weekend but there will probably be dangerous ice or open water on the main part of the lake.
The weatherman says will will get a storm Saturday, with snow changing to rain in the valleys, and then more warm storms next week. That makes it very difficult to predict conditions. We expect Strawberry to be completely frozen by Christmas Day, but test ice carefully before betting your life on it.
Rockport, Echo, Jordanelle and similar waters will probably not have safe ice until we get another spell of cold weather. Deer Creek may or may not freeze solid this winter.
Fish Lake normally has safe ice by Jan 1.
Utah Lake and Willard Bay had fishable ice in harbors a couple weeks ago, but that melted with our recent mild weather. Cold overnight temperatures may put a cap on them now, but warm daytime temperatures will likely make any ice unsafe.
St George will see daytime temperatures in the high 50s next week. The weather should be great for hiking, biking and other outdoor activities.
Interesting Posts
- Strawberry has thin ice on bays, slow fishing
- Scofield ice fishing is good for small trout
- Scofield, more good reports of small fish
- Huntington has good ice, slow fishing
- Lake Powell Hite still has good striper fishing
- Weber River fly fishing is slow, but fun
- East Canyon has good fishing but no ice
News Reports
DWR Utah Wildlife News
- Officers bust poaching ring
- Book Cliffs poaching cases
- Possible coyote trapping change
- Smaller deer hunting areas for 2012
Salt Lake Tribune
- Poaching ring killed at least 19 deer and two elk, officials suspect
- Latest Utah dinosaur brings number of new species named in 2010 to eight
- Must-have gear for backcountry enthusiasts: avalanche beacon
- Where in Utah was this photo taken?
- Outdoor notebook: Yellowstone, Grand Teton open for winter
- Bird sightings: Evening grosbeak
- Grandson catches first fish — but refuses first kiss
- Kendal Lukrich's shot of winter sunset is a stunner
- Latest Utah dinosaur brings number of new species named in 2010 to eight
Deseret News
- Hunting traditions sag as land, desire disappear
- Tip lands 2 accused of poaching in jail
- Some Bountiful residents opposed to city-backed deer shootings
- Outdoor notes
- Montana proposes to move some sage grouse to Alberta
- Utah animal trap proposal pits hunters against wildlife advocates
- Supporters tout Colorado National Monument as national park
- Warming means ringed seals face uncertain future
- Along beloved route to Yosemite, a bridge too far?
- Swiss billionaire puts $35M into MT conservation
Roughin' It Outdoors
- Swan Hunting With The Kids
- Guided Swan Hunt
- Fish Tech Tip: Angler Gifts
- What nesting trait in swans is unique in waterfowl?
- Snapshot of the Week: Dec. 11, 2010
- Utah Field Guide: Bonneville Cisco
Regional
- Winter fishing is cold, wet and lots of fun
- Hunting tourism dives with rise in license fees; economy, wolves also blamed
- Wyoming Game and Fish shows off new digs
- Wolverines may be returned to Colorado
- Wyoming Game and Fish relocates 20 more bighorns into Seminoe Ferris herd
- Fish and Game chief pleads in trespassing case
- Bald eagle returns to the wild after six months of care
- Moose in the yard? Chill
- Hikers, skiers urged to let wintering elk lie
- Denver Water Projects Threaten "Significant Impacts" to South Platte Fisheries
- Ice cold camping
Other
- Scientist says he found Japan salmon thought to be extinct