Promote Your Business or Website
Use our
fishing wiki
to promote your website and/or business. ♣ Read our
fishing articles
♣ Listen to FishBytes on
KSL Outdoors
♣ Take a
SkyCall satellite phone
on your next adventure
♣
Follow me on Twitter
What's New
Brett Prettyman, Salt Lake Trubune, has an interesting article and blog post on why we need to do more to promote fishing.
Events
Utah Boat Show runs through Sunday at South Towne Expo Center. It is a good show and offers one of the few valid reasons to stay in town this weekend instead of going fishing.
Bald Eagle Day is this Saturday.
Delta Snow Goose Festival will be February 25 & 26.
Early Spring
Spring-like temps in the high 60s are expected in St George this weekend. Very nice - perfect for hiking, biking, golf and other outdoor spots. The town will be crazy busy over the upcoming President's Day weekend.
Next weekend should be even nicer in southern Utah. My plan is to stick around town this weekend, then escape south to fish and hike.
- Dave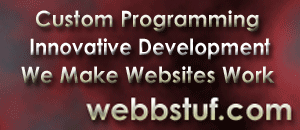 FishBytes is sponsored by WebbStuf.com, specializing in Utah web development.

Fishing Overview

Good ice fishing reports have recently come from these waters:
- Deer Creek Reservoir
- Rockport Reservoir
- Fish Lake
- Bear Lake
- Pineview

We've also heard good reports from fly fishermen at Lees Ferry, on the Colorado below Lake Powell. It is a great place to escape from ice and snow and enjoy sunshing and good action for nice trout. Here's more information.

Bear Lake has just recently frozen. It has safe ice in some areas but conditions may be unsafe in other spots.

Lake Powell continues to offer very good winter fishing for striped bass. Wayne Gustaveson suggests: "Use the graph to locate the school. Chum early and often to activate the school and keep them going. Use a jig head with a short shank to get the 1 inch chunk of bait down quickly to the bottom." Read Wayne's complete report.

Excellent spring fishing is expected at Powell. Wayne provided this quick forecast: "Striped bass adults will struggle and most will be eliminated from the fishery this summer. It will be excellent fishing from right now through May for these big, hungry fish. Young stripers will take advantage of the new shad crop so they will grow fast and quickly replace the adults now disadvantaged. Look for good fishing for thin adults and fat 16 inch fish. Walleye fishing will be good in May in the upper lake where the population is strong and forage is better. Smallmouth will be present in large numbers but size will diminish due to lack of shad forage in the rocky habitat."

At Powell, largemouth fishing is slow during winter and starts to improve in mid-March. Smallmouth fishing improves in April and both species offer red hot action in late April and May.

Interesting Posts

- Bear Lake has safe ice in spots, spotty fishing
- Fish Lake still offers good ice fishing
- Big striper caught trolling at Lake Powell
- Proposal would eliminate trout below Lees Ferry on Colorado River
- Roy Pond yields a large rainbow
- Strawberry action is slow
- Strawberry was good for this angler
- Rockport has good action for rainbows
- East Canyon ice fishing remains good
- Pineview still has good fishing for perch
- Deer Creek ice fishing is good

News Reports

DWR Utah Wildlife News
- Deer viewing tips
- Help decide how wildlife is managed
- Turkey hunting permits
- See thousands of gees

Salt Lake Tribune
- No hunting, fishing license increases next year
- Bear Lake Finally Offers Some Ice Fishing
- Utah Boat Show fun for attendees, crucial for dealers
- Grand Canyon may see more 'grand flushes'
- Weekend weather should be spring sneak peek
- Big changes likely at state parks
- Defense: Mom to blame for messy campsite that attracted killer bear
- Get up close and personal with bald eagles
- Outdoors: Put it in gear
- Yellowstone bison capture tops 500 animals
- Where in Utah was this photo taken?
- Outdoor Notebook: Banff Film Festival tour hits Utah
- Outdoors gear: Cross-country ski set from Madshus
- Out takes: Thanks to a willing bush pilot, Julie Kilgore gets a great shot of Arrigetch Peaks in Alaska
- Hook shot: Liam's largest catch yet
- Bird sightings: Sharp-tailed grouse

Deseret News
- Proposal to merge two state departments raises opposition
- U.S. Forest Service presents case in bear mauling trial
- Am. Fork camper recalls bear clawing at his head as negligence trial begins
- Outdoor notes

Roughin' It Outdoors
- Pineview Perch Party 2011
- Fish Tech Report: Perch Ice Fishing
- Where Are Tiger Musky Found?
- Snapshot Of The Week: February 5, 2011
- Utah Field Guide: Bald Eagle

Other
- ALLPHIN: Of eagles, Burdot and big game

Regional
- Feds OK hunting of 60 wolves in north Idaho
- Wyoming Criticized For Hazing Elk To Drive Them Back Into Utah
- ATV-riding hunters want backcountry trail access
- Idaho anglers to gather at Magic Reservoir for ice fishing tourney
- Silver Lake hosting ice fishing tournament
- Area Ice Fishing Yielding Good Results
- Emergency Meeting Called For Invasive Species In Montana
- Glen Canyon Dam release spawns unwanted trout